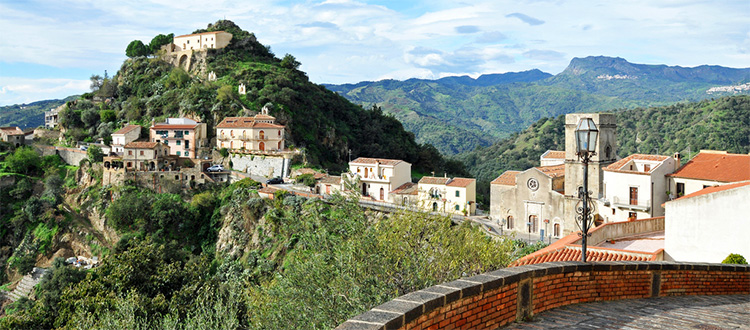 Savoca
Savoca is a town in the province of Messina, hailed as the most beautiful village in Italy since 2008 and a city renowned for fine art. It is also known by the name of the Place of seven faces, or "fertile land of stalwart minds".
The town covers an area of about 8 km2, spreading out upon a rock 303 meters above sea level. The old center, of medieval origins, is divided into small densely-populated villages. It is rich in cultivated vegetation, with citrus groves, alternating with vast flat areas of olive groves and vineyards. Cattle, sheep and pigs are kept, and wood is typically worked with great craftmanship. Savoca (along with Forza d'Agrò) has been chosen as the set for numerous films of great success, among them The Godfather by Francis Ford Coppola.
The History of Savoca
The history of the town of Savoca has its roots in Roman times, when, according to some historians, the first nucleus of the old center was founded. The site was frequented by the Byzantines and was subsequently enhanced by the Arabs, from the ninth century onwards. However, it was with the Normans that the hilltop town rose to become the main center of the Agrò valley and the Ionian Riviera of the Province of Messina, together with Taormina. Thus acquiring a prestige that allowed it to achieve, between the fifteenth and eighteenth century, considerable political, religious, economic and cultural growth and importance.
Savoca's Unusual Origins
The origins of the town are rather controversial.
According to the first hypothesis, the center of Savoca should really be originally Pentefur. A town inhabited by the Romans of Sextus Pompey, as they fled from the barbarian hordes who invaded Phoinix in the third and fourth century AD.
Another theory suggests that the town of Messina was born in the first century AD. At the time of the destruction, by Octavian, of the village of Phoinix. A medieval legend tells the story that it was founded by five ('penta') robbers, who had escaped from the nearby prison of Tauromoenium.
Savoca still retains vestiges of medieval, Renaissance and Baroque eras. It has a crypt in which are kept and exhibited the embalmed corpses of some members of the local nobility, dating back to the eighteenth and nineteenth centuries. There are still, in its historic center, the ruins of a very old medieval synagogue, which was converted into residential use after 1470.